Ricky Rebel: A Daring Pioneer, Igniting the Music Industry with Single "Booty Eater" and "Wild Reality" Tour in Japan
Ricky Rebel is an accomplished recording artist based in Los Angeles, California, who has left an indelible mark on the music scene with his bold approach to music and fashion. Throughout his extensive career spanning several decades, Ricky has consistently demonstrated his versatility and fearlessness, always willing to take risks and push boundaries.
Ricky's Journey in the Music Industry
In 1997, Ricky burst onto the music scene as the lead vocalist of the group No Authority. The band had the privilege of touring with esteemed acts such as 98 Degrees, Destiny's Child, Aaron Carter, and Ashlee and Jessica Simpson. Their first album, "Keep On," was produced by renowned producer Rodney Jerkins, known for his work with Whitney Houston, Jennifer Lopez, and Britney Spears. No Authority was further catapulted to success when Michael Jackson signed them to his MJJ Music custom-label at Sony.
In 2000, No Authority signed with Madonna's Maverick label, leading to the release of their self-titled album. The album performed well, reaching the 18th spot on the Billboard Heatseekers Albums chart. One of their standout hits, "Can I Get Your Number," peaked at number 33 on the Billboard Top 40 chart. The success of their music allowed No Authority to embark on a tour with pop sensation Britney Spears.
Following the disbandment of No Authority, Ricky took on a new role as the lead vocalist of the band Harlow from 2004 to 2009. During this time, he released the album "Unstoppable" in 2005, which showcased his versatility as an artist and garnered critical acclaim.
Ricky Rebel's Artistry and Impact
Ricky Rebel's career is a testament to his fearlessness and willingness to explore different genres and styles of music. His ability to captivate audiences with his unique sound and fashion-forward image sets him apart from his peers. Ricky continues to make waves in the music industry, carving his own path and leaving a lasting impact with his artistry.
In addition to his success in the music industry, Ricky Rebel has also made notable contributions to the world of film, television, and live performances. His versatility as an artist extends beyond music, showcasing his talent in various mediums and solidifying his position as a multifaceted entertainer.
Television audiences have had the pleasure of witnessing Ricky's talent through his appearances on popular shows such as "American Dreams," "Boston Public," and "Audrina" on Vh1. These roles allowed him to showcase his charisma and stage presence in a different setting, captivating viewers with his dynamic performances. Ricky also had a starring role in Debbie Allen's ballet production, "Pepito's Story," which premiered at the renowned Kennedy Center in New York City, showcasing his versatility as a performer in the realm of dance.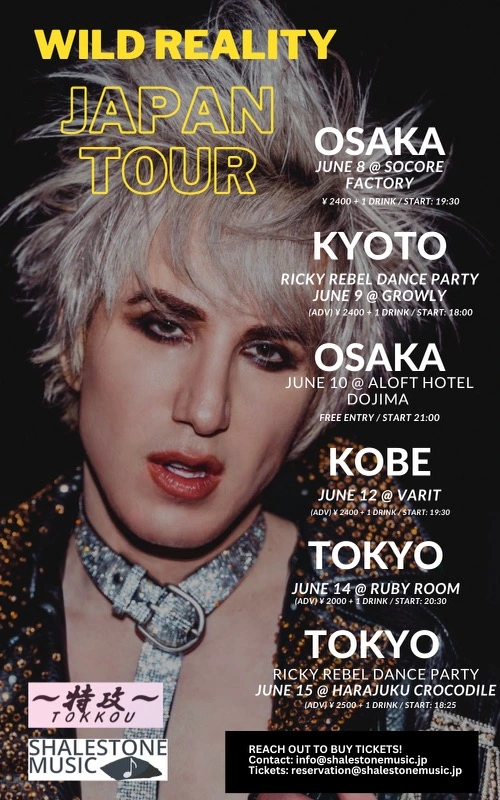 Upcoming Projects and Tours
Ricky Rebel has an exciting lineup of projects that will further expand his artistic horizons. The highly anticipated 'Wild Reality Tour' promises to deliver unforgettable live performances, captivating audiences in Japan with his electrifying stage presence and musical prowess.
Additionally, fans can anticipate the release of his upcoming EP, 'Fantasy Control,' which will undoubtedly showcase Ricky's bold and innovative approach to music. As Ricky Rebel continues to make his mark in the entertainment world, his star will undoubtedly shine brightly for years to come.
"Booty Eater" and the Impact of Provocative Music
One of Ricky Rebel's recent singles, "Booty Eater," has garnered significant attention for its bold and provocative nature. The song pushes boundaries and challenges societal norms, embracing a sex-positive message and celebrating individual expression. With its catchy beats and daring lyrics, "Booty Eater" has become a symbol of Ricky's fearless approach to music and his willingness to tackle taboo subjects.
The release of "Booty Eater" sparked discussions and debates about artistic freedom, censorship, and the role of provocative music in the industry. While some have praised Ricky Rebel's audacity and artistic vision, others have criticized the song for its explicit content. Regardless of the controversies surrounding it, "Booty Eater" undeniably showcases Ricky's willingness to push boundaries and ignite conversations through his music.
Continued Success and Impact in Japan
Ricky Rebel has developed a strong fanbase in Japan, where his unique style and boundary-pushing music resonate with audiences. The "Wild Reality Tour" in Japan further solidifies his connection with his Japanese fans, offering them an opportunity to experience his electrifying performances up close.
Throughout his career, Ricky Rebel has been recognized for his contributions to the music industry. He has received numerous awards and accolades, including the Artists in Music Award for "Best Rock Recording" and the OUTMusic Award for "Best Dance Song." Ricky's impact extends beyond his music, as he has been an advocate for LGBTQ+ rights and has used his platform to raise awareness about important social issues.
A Visionary and an Inspiration
Ricky Rebel's daring approach to music, fashion, and performance has established him as a visionary and an inspiration for aspiring artists and fans alike. His ability to fearlessly express himself and challenge societal norms has made him a trailblazer in the industry. Ricky continues to captivate audiences with his unique style, powerful vocals, and electrifying stage presence, leaving a lasting impact on the music scene.
As Ricky Rebel continues to push boundaries and explore new artistic territories, his influence on the music industry and his fans will undoubtedly endure. Whether through his provocative music, captivating performances, or fearless fashion choices, Ricky Rebel continues to be a bold pioneer, inspiring others to embrace their true selves and break free from societal constraints.